High Performance Chuck for your needs
Introducing the American Probe & Technologies' HC-6000 series of thermal chucks, designed to provide accurate thermal control and surface uniformity. With a wide variety of configurations to choose from, the HC-6000 can accommodate not only the basic heated applications but also those requiring advanced electrical considerations for low noise DC Parametric or high voltage testing to 5KV. For a quotation on your custom needs, please contact American Probe & Technologies' technical support. APT's Heated Wafer Chuck incorporates a DC powered heater cartridge with cooling port designed for lower electrical noise output than its AC counterpart. The heater element is positioned within the cartridge assembly to provide excellent temperature uniformity across the entire chuck. The chuck construction is from the highest quality and density of gold plated (optional finishes available) aluminum, machined and ground to a surface flatness of better than ±.001". Vacuum rings secure the wafer or device, maintaining optimum heat transference and minimal device temperature variances. Options range from a basic heated wafer chuck, to a complete heated and cooled system with Rapid Fluid Assisted Cooling to ambient or sub-ambient temperatures. Customizing allows the user to choose the necessary components to configure a customized thermal solution. Optional isolation and shielding configurations allow for improved DC parametric testing performance with lower guarded capacitance.
Wafer Chuck Highlights
Each custom built HC-6000 Thermal Wafer Chuck incorporates high-density aluminum, ceramic, and quartz materials, and a cast heater/cooling port cartridge. The layout of the tubular heater within the cast assembly offers exceptional uniformity for years of trouble free operation. With adjustable vacuum ports to accommodate different wafer sizes, this chuck's surface has a guaranteed flatness to within 50 microns and is available with gold or nickel plating. APT utilized RTd or thermocouple sensors (configuration dependent) within the wafer chuck to interface to the HC-6000 controller. The unique configuration of the chuck assembly provides minimum "Z" expansion through all temperatures.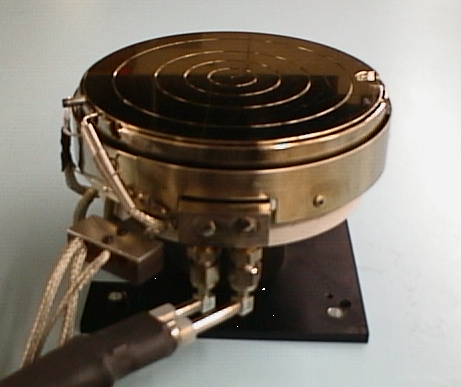 Controller Highlights
The system controller is a microprocessor-based unit with a continuous dual LED display of both Set and Monitored stage temperatures. The DC power supply is a patented Proportional Power for True Linear DC Output of heater voltages. This allows very low measurement tests and increased thermo uniformity and mechanical stability of chuck growth. The sensors utilized are determined by the desired temperature range and accuracy required. RTD and thermocouple sensors with a wide operation range and accuracy of <1°C are most commonly used.
Custom Designs per your needs
Through the years, American Probe & Technologies has built several custom designs per our customers' requirements.
Doing what it takes to meet your application needs!
APT has made 400 degree Centigrade chucks for 5KV, high voltage applications, to Kovar heat exchanger with quarts vacuum chuck, to 500 degrees centigrade.
If you have a custom need, please don't hesitate to contact APT to see how we can be your thermal chuck supplier.