LP440L shown with optional 78LP5-MMK1/2 Mounting Adapter and 74CJ probeholder. Engineered for the general purpose probing requirements, the APT model LP-440 Micropositioner is precision built for larger in-circuit or pad level microprobing. Featuring linear motion in all three axis, the LP-440 provides cost effective probing solution in a compact footprint size in bolt down or magnetic base mounting configurations.
Features:
General purpose micro probing with lead screw resolution of 40 TPI for pad probing
Smooth movement with zero backlash. Spring loaded ball bearing construction eliminates back
lash while assuring the smoothest possible movement.
Height: 2.00"

Linear probe positioning. To simplify probe positioning, all X,Y, and Z motions are linear.

Travel distance is 0.3" in X, Y and Z axis.

Base Footprint: 1.5" x 2.0"

Resolution: 0.025" per revolution
Coaxial and DC (standard) probe holders are available in many standard and custom
Configurations to accommodate almost any testing application.
LP440 Micropositioner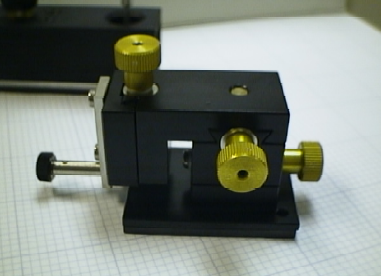 Right Handed configuraton shown
Dimentions