A flexible Low Current Design with easily replaced coax probes. The probe holder is provided with dual SSMC connectors that allows for variety of test measurements required to semiconductor test. The second SSMC connector provides an easy accessible point for sensing voltage or current, guarding, grounding, termination and LCR four wire measurements. Designed with an industry standard form-factor that easily retrofits to almost any probe station or custom application. The replaceable 50 ohm coaxial probe has a tungsten core that is electrochemically etched to the desired radius ranging from 0.5um to 20um with options to 50 micron. The replaceable probes can also be ordered with custom shapes and bends to meet any custom requirements. An assortment of accessories and options for shielding, grounding, guarding, series resistors, terminations, high voltage, and high frequency can be ordered and configured.
Features
Very Low Current Design to less than 10 fA. Dual SSMC connections for Quasi Kelvin connection for SMU and LCR use. Replaceable Coax Probe design for easy replacement of damaged probes or to replace with a different radius size.
Applications include
Low current (SMU) (<10fA)
LCR (<10fF)
Signal Integrity
Pulse source/sense
TLP (<10nS rise with 76LWA ground return)
What size probe should I use?

The typical recommendation is to use a probe diameter that is half to two thirds the size of the contact. Remember, APT's probes are sold by the radius, so you must double the number to determine the diameter. It is normally found that a radius larger than 20 microns does not yield lower contact resistance. An example is: The contact pad is 10 microns, using the recommendation, you would then use a probe with a radius of 2.5 - 3.5 microns. (5- 7 micron diameter)
Product Specifications:
Mechanical:
Material: Type II Gold plated brass/copper Connectors: Two SSMC connectors connected in parallel to create a Quasi-Kelvin connection within the probe holder body Mounting Shank: 0.124" ~ 0.125" Probe: Accepts a 0.034" O.D. semi rigid coaxial probe (73CT-APTA, 73CT-CMIA, 73CT-SMTA) Probe lock: The coaxial probe is held in place by two 0x80 pan head screws tighten the holder clamp
Electrical:
Current leakage: < 10 fA. Frequency: > 150 MHz Capacitance (Guarded): < 10 fF Impedance: 50 Ohm Power Handling: > 125 Watts @ 18-21 Deg. C Voltage Rating: > 250 Volts RMS @ sea level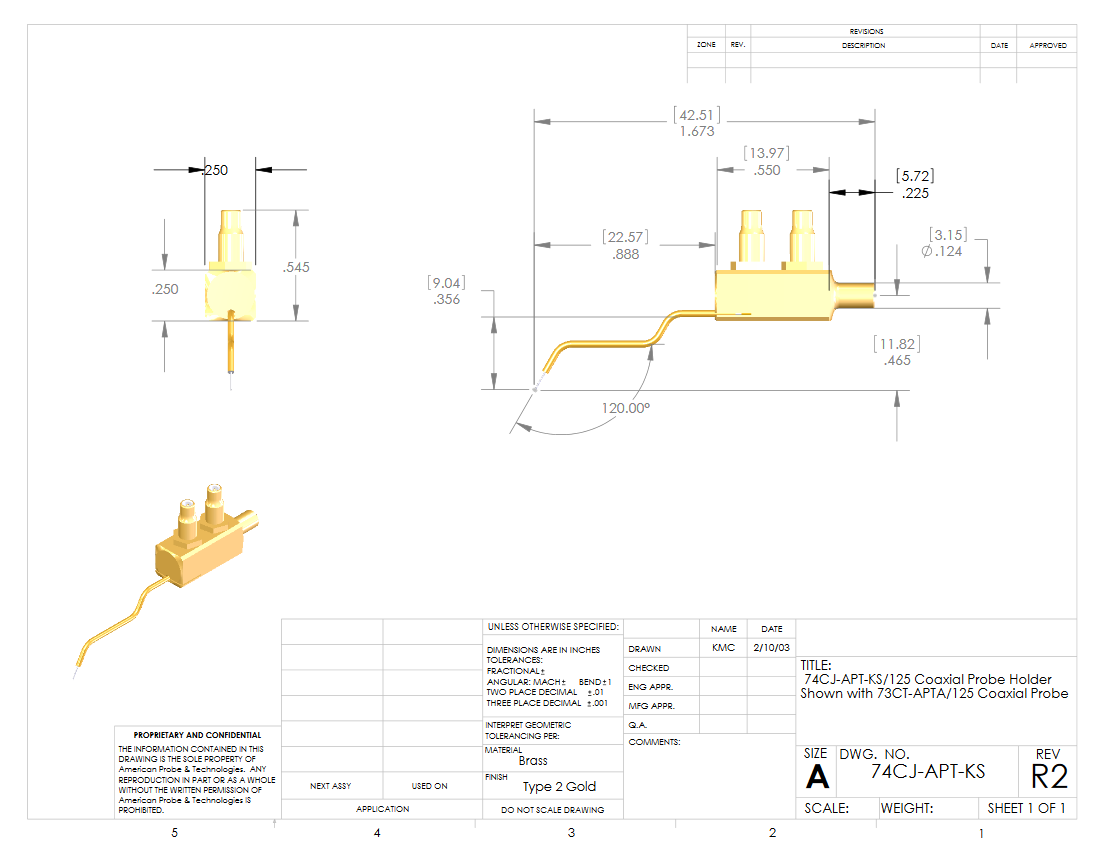 Click here for dimensional drawing of this product
Reference Documents
Contact resistance Data (Preliminary Analysis) The data was collected using a programmable load and power supply connected to a 74CJ-APT-KS/100 coaxial probe with a 10 micron radius. The target was a hard gold plated copper plate.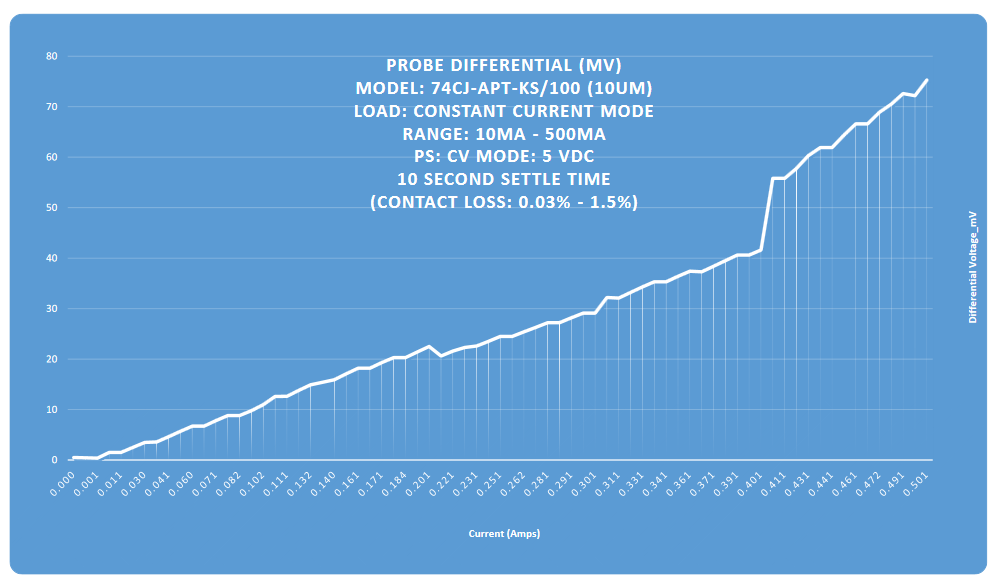 The test results can be viewed here
You will note an anomaly at about 400 mA where the probe station was accidently bumped causing the probe contact to be somewhat damaged. This damage resulted in higher contact resistance as noted.
Please refer to this section for American Probe & Technologies cross reference to other manufactures model numbers.
| | |
| --- | --- |
| Cascade Part Number | Equivalent APT Model Number |
| DCP-105R | 74CJ-APT-KS/05LF |
| DCP-115R | 74CJ-APT-KS/15LF |
| DCP-150R | 74CJ-APT-KS/50LF |
| 64063 | 74CJ-APT-KS/200 |
| 38267 | 74CJ-APT-KS/50 |
| 77002 | 74CJ-SMTA-KS/100 |
| 67045 | 74CJ-SMTA-KS/50 |
| 73276 | 74CJ-SMTA-KS/500 |
| | |
| --- | --- |
| Karl Suss Part Number | Equivalent APT Model Number |
| K00-38267 | 74CJ-APT-KS/50 |